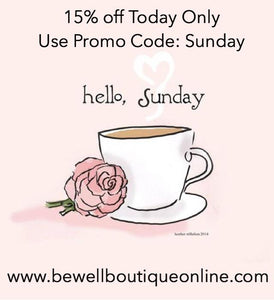 Sunday Vibes
Happy Sunday!
We wanted to do a quick blog post about our newest arrivals and a special sale we are running today only! 
If you missed our Facebook Live Friday evening then you didn't get to meet our kiddos. We had launched our new Mommy and Me collection of graphic tees the week before Easter but hadn't been able to do a Live yet to describe them and show them off. We wanted our next Live to be special and to give you all an inside peek at us and our lives with our precious little ones! We are also doing a giveaway running through Monday 4.9.18 so be sure to share and love the video to be entered!
So be sure to check it out, just follow this link: https://www.facebook.com/bewellboutiqueonline/videos/177167226265086/
Alison is a HUGE baseball fan so she made sure we had some fun Baseball tees for the fans of our Missouri teams, the St. Louis Cardinal and the Kansas City Royals!
And Today Only we are running a 15% off sale so that you can snag some of your new favorites!
Just use promo code: Sunday at checkout! 
Until next time ya'll! 
- Whitney
---